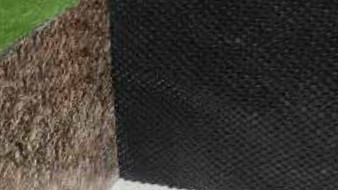 KRONFLEX dimpled foundation membrane is used for anti-moisture insulation of the building and its structure. It constitutes perfect protection against aggressive action of water vapour, ground water and soil.
Kronflex foundation membrane is used for insulation of:
foundation walls
covered ceilings
terraces
internal walls of basements
under floors of basements
retaining walls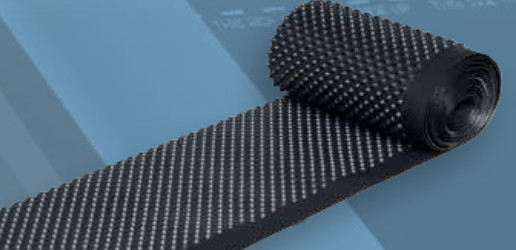 Membrane can also be used on external and internal surfaces, new and old structures. It is made of high density HDPE polyethylene thanks to which it features high mechanical strength. Thanks to appropriately profiled dimples it creates gap enabling additional ventilation of insulated surfaces.
High elasticity and flexibility allows for its easy forming as well as quick and easy installation.
| | | | |
| --- | --- | --- | --- |
| Technical parameters | KRONflex 1,5 m | KRONflex 2,0 m | KRONflex 3,0 m |
| Basis weight [g/m²] | 400 g/m² ± 10% | 400 g/m² ± 10% | 400 g/m² ± 10% |
| Thickness [mm] | 0,2 | 0,2 | 0,2 |
| Number of layers | 1 | 1 | 1 |
| Tear resistance: lengthwise [N/5cm] | 250 | 250 | 250 |
| Tear resistance: crosswise [N/5cm] | 200 | 200 | 200 |
| Material | HDPE | HDPE | HDPE |
| Fire rating | F | F | F |
| Logistic information | | | |
| Roll size | 1,5x20 m (30 m²) | 2,0x20 m (40 m²) | 3,0x20 m (60 m²) |
| Number of rolls per pallet | 12 rolls | 12 rolls | 12 rolls |
| Weight/width/length/height of pallet | 160 kg/ 1,0 m/ 1,30 m/ 1,65 m | 208 kg / 1,0 m/ 1,3 m/ 2,2 m | 360 kg / - |