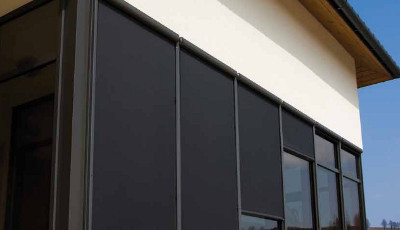 VMZ BlockHeat awning blind is intended for external applications on vertical windows or wooden as well as PVC balcony doors. The awning blind protects the interior from overheating – it offers up to 8 times more effective protection when compared with internal blinds. In practice it helps to achieve a decrease in the interior temperature of even 10°C, thus ensuring usage comfort.
Download VMZ BlockHeat catalogue
The awning blind fabric is made of durable and resistant to weather conditions mesh. It provides eye contact with the external environment, protects the eyes from the harmful effects of reflections, especially bothersome when working on the computer.

Internal blind does not offer
any protection against room
overheating.
The external awning blind stops solar
radiation outside the window, thus
preventing the room from excessive
overheating.
The awning blind significantly reduces UV radiation which means that objects inside the room retain their natural colours for longer.
The space should be protected from overheating on summer days with the use of external sun screening devices placed outside the glass which reflect the heat.
Rooms overheating is a result of the global radiation absorption by various objects in the room (walls, floor). The absorbed radiation converts into long-wave infra-red
radiation (thermal) which is not transmitted outside by the window glass and leads to undesirable heat gain in the summer." - DIN 5034-1
| | |
| --- | --- |
| Solar energy transmittance "g" | |
| Window without sun screening devices | 61% g= 0,61 (wg EN410) |
| Window with internal blind | 37% g= 0,37 (wg EN 13363-1) |
| Window with VMZ BlockHeat Solar awning blind | 4-14% g= 0,04-0,14 (wg EN 13363-1) |
Characteristic: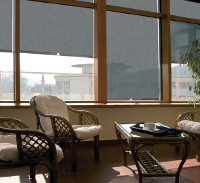 EFFECTIVE PROTECTION AGAINST THE HEAT
External awning blinds protect against the heat of the sun absorbing solar radiation right before glazing and emitting it outside, thus protecting the interior from excessive heat gain.
PROTECTION AGAINST HARMFUL UV RADIATION
The VMZ awning blind once installed, provides effective protection against UV radiation, hence preventing the furnishings from turning yellow and fading.
USAGE COMFORT
Ensures feeling of privacy. Windows covered with these blinds constitute a barrier impenetrable for nosy neighbors.

It ensures uniform distribution of light intensity protecting our eyes from harmful reflections, particularly bothersome when working on a computer.

The awning blind's fabric does not limit visibility to the outside.

Easy to operate – all is needed to pull down the blind's material (fabric) is to open the window.
ENERGY SAVINGS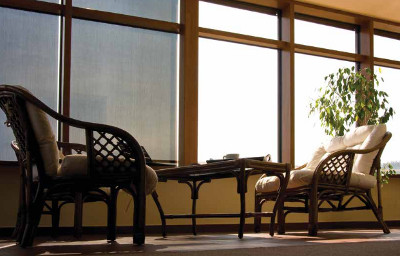 This awning blind limits the amount of energy consumed by air conditioners.
OPERATING
The VMZ awning blind is operated manually by hand or with the use of a special control rod included in the package.